CDS Worldwide Announces Expansion of Solar Photovoltaic Power Generation System
S SAN FRANCISCO, CA – January 2, 2012 – CDS Worldwide, an international consulting firm that advises top management of leading commercial and industrial product manufacturers on matters of product and brand development, sales, marketing and distribution strategy, has completed the expansion of its solar power generation system. The 36.3 kW rooftop system is one of the largest for a company of its kind. The South San Francisco, California based international sales and marketing consulting company now generates over 100 percent of its electricity from solar power.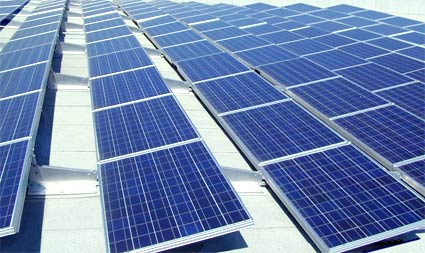 Designed and installed by Marin County-based REP Solar, the expanded solar power system now consists of 162 solar modules together with small inverter units. The inverter units connect directly to each solar module to convert DC power into grid-compliant AC power while transmitting valuable performance data on each module to provide more reliable power and the ability to monitor and respond quickly to performance issues.

"As a proponent of green organizations worldwide, we continue to seek to expand our sustainable practices," CDS Worldwide's Managing Director, Randy Dilena stated, "and, as a valuable partner of all our clients, we firmly believe it is our duty to join them in their efforts to be socially, fiscally and environmentally responsible. The expansion of our solar power generation system is just one of many ways we will continue to do our part for our collective environment."

CDS Worldwide estimates that the expanded system will save the company approximately $15,000 in electricity costs annually. It is also expected to reduce the company's carbon footprint by more than 40 metric tons of CO2 per year.
About CDS Worldwide
CDS Worldwide is an international consulting firm specializing in the Asia Pacific region and is one of the world's leading advisors on sales and marketing strategy for companies who wish to be successful in the international cleaning, janitorial and industrial safety industries. The firm is privately owned and was established in 1985 to provide marketing and sales representation services throughout the Asia/Pacific region. Current and former clients include companies such as Continental Manufacturing, GOJO Industries, Imperial Cup Corporation, Ergodyne Corporation, Claire Aerosols, Katy Industries, Nilodor Incorporated, Wausau Paper Corporation and many more. Today CDS Worldwide provides its services to clients worldwide directly and through affiliations with similar organizations in Asia/Pacific, Europe, the Middle East and Latin America.
For more information, please contact:
Ms. Christina Garcia
CDS Worldwide
Telephone: +1.650.873.0160
www.cdsworldwide.com