CDS Worldwide presented a Special Recognition Award for 17 years of contribution toward the enormous success of GOJO Industries in the Asia Pacific region!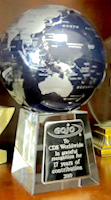 S SAN FRANCISCO, CA – November 10, 2010 - At the ISSA / INTERCLEAN Trade Show in Orlando, Florida, CDS Worldwide was presented with a Special Recognition Award for 17 years of work helping develop & grow the Asia Pacific commercial away-from-home markets for the corporation by Mr. Fady Chehade, GOJO Industry's Vice President - International. Following receipt of this award, CDS Worldwide's Managing Director, Randy Dilena expressed his deep gratitude, "We are extremely honored to receive this recognition for the 17 years we have been involved with GOJO Industries. Our thanks go out to all of our wonderful customers for their loyalty, hard work and dedication to the GOJO brands and to all those at GOJO Industries - past and present - for their enthusiasm, hard work and tremendous support!"
About CDS Worldwide
CDS Worldwide is an international consulting firm specializing in the Asia Pacific region and is one of the world's leading advisors on sales and marketing strategy for companies who wish to be successful in the international cleaning, janitorial and industrial safety industries. The firm is privately owned and was established in 1985 to provide marketing and sales representation services throughout the Asia/Pacific region. Current and former clients include companies such as Continental Manufacturing, GOJO Industries, Imperial Cup Corporation, Ergodyne Corporation, Claire Aerosols, Katy Industries, Nilodor Incorporated, Wausau Paper Corporation and many more. Today CDS Worldwide provides its services to clients worldwide directly and through affiliations with similar organizations in Asia/Pacific, Europe, the Middle East and Latin America.
For more information, please contact:
Ms. Christina Garcia
CDS Worldwide
Telephone: +1.650.873.0160
More information can also be found at the following websites: