CDS Worldwide Launches New Website!
S SAN FRANCISCO, CA – March 31, 2012 – CDS Worldwide, an international consulting firm that advises top management of leading commercial and industrial product manufacturers on matters of product and brand development, sales, marketing and distribution strategy, today unveiled its new Web site (www.cdsworldwide.com).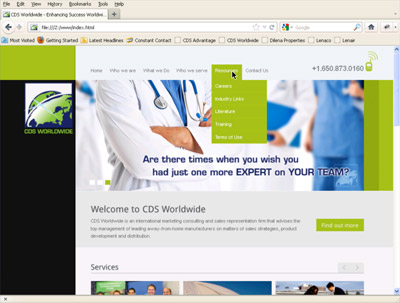 "Our new company Web site has been created to satisfy a growing interest on the part of the public, our clients and our customers in learning more about how CDS Worldwide helps companies grow their businesses internationally" said CDS Worldwide's Managing Director, Randy Dilena. "We've built a quick, easy-to-use site where we will soon offer new capabilities to enhance the way we do business together, bringing our customers added value and greater convenience!"
The clean design and straightforward navigation reflect the company's in-house design expertise as well as its commitment to utilize advanced technology.  Additional capabilities are already underway and will be available in the future.
About CDS Worldwide
CDS Worldwide is an international consulting firm specializing in the Asia Pacific region and is one of the world's leading advisors on sales and marketing strategy for companies who wish to be successful in the international cleaning, janitorial and industrial safety industries. The firm is privately owned and was established in 1985 to provide marketing and sales representation services throughout the Asia/Pacific region. Current and former clients include companies such as Continental Manufacturing, GOJO Industries, Imperial Cup Corporation, Ergodyne Corporation, Claire Aerosols, Katy Industries, Nilodor Incorporated, Wausau Paper Corporation and many more. Today CDS Worldwide provides its services to clients worldwide directly and through affiliations with similar organizations in Asia/Pacific, Europe, the Middle East and Latin America.
For more information, please contact:

Ms. Christina Garcia
CDS Worldwide
Telephone: +1.650.873.0160
www.cdsworldwide.com