CDS Worldwide Unveils New Corporate Logo!
S SAN FRANCISCO, CA – January 1, 2012 –
CDS Worldwide
, an international consulting firm that advises top management of leading commercial and industrial product manufacturers on matters of product and brand development, sales, marketing and distribution strategy, today announced the introduction of a new corporate logo.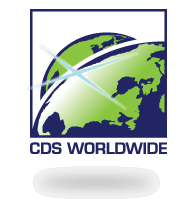 Commenting on the new corporate identity, CDS Worldwide Managing Director Randy Dilena stated, "a company's logo is a visual representation of who we are and what we do; it creates recognition in the market, and instills a feeling of value and trust.  Since it has been almost 25 years since our current logo was created, we felt it was time we develop a new logo that reflects our dynamic global company." He continued, "In order to communicate dramatic growth in the international markets we connect our clients to, our focus on green products and our goal driven philosophy, the new logo includes new graphics that make it meaningful as well as interesting and impactful."

The clean modern design of the new logo reflects the company's in-house design expertise.  Over the course of the next 12 months, it will be applied to all business cards, letter heads and the company's newly designed website.

About CDS Worldwide
CDS Worldwide is an international consulting firm specializing in the Asia Pacific region and is one of the world's leading advisors on sales and marketing strategy for companies who wish to be successful in the international cleaning, janitorial and industrial safety industries. The firm is privately owned and was established in 1985 to provide marketing and sales representation services throughout the Asia/Pacific region. Current and former clients include companies such as Continental Manufacturing, GOJO Industries, Imperial Cup Corporation, Ergodyne Corporation, Claire Aerosols, Katy Industries, Nilodor Incorporated, Wausau Paper Corporation and many more. Today CDS Worldwide provides its services to clients worldwide directly and through affiliations with similar organizations in Asia/Pacific, Europe, the Middle East and Latin America.
For more information, please contact:
Ms. Christina Garcia
CDS Worldwide
Telephone: +1.650.873.0160
www.cdsworldwide.com